---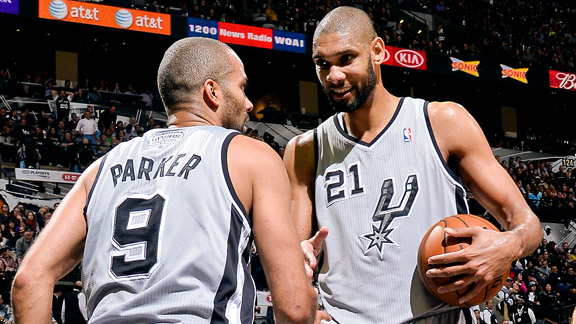 Tim Duncan will be remembered as an NBA Legend. He may be considered as the best power forward of all time. He is a definite Hall of Famer. Duncan played his entire career in San Antonio, where he is probably a walking landmark. Critics say he is boring and lacks star personality. Yet, four rings is a testament to his silent efficiency. Happy Birthday to the Big Fundamentals.
per Spurs Nation
There's Night in Old San Antonio and the Battle of Flowers Parade.

Other celebrants swear by the King William Fair, the Fiesta Flambeau Parade and the annual fireworks display at Fort Sam Houston.

But from a sports sense, there could be no better way to celebrate Fiesta every year in San Antonio than to make Tim Duncan's birthday an annual holiday for the city.

All of the children could  wear their replica No. 21 jerseys to school. Various customs from the Virgin Islands could be celebrated, such as a callaloo-eating contest. It would be fun.

So why shouldn't we celebrate Duncan and his achievements. Because as far as the Spurs and San Antonio, there has never been as important a figure in the history of the team.

Those four championship trophies on display in the trophy cases at the AT&T Center Parkway are the best testament to Duncan's importance to his team and his city.