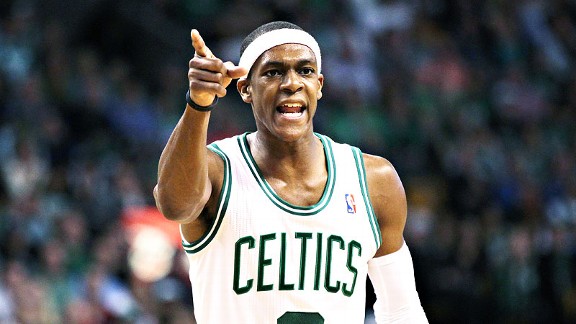 The Boston Celtics have only one superstar left. Every We watched him blossom with the Big Three. When Allen left, he was in the Big Three. Last season, KG and Pierce were like his 'wingmen' and he was the Alpha Dog. But more than anyone else, Rondo is not happy to lose his KG and Pierce (even Jason Terry, I bet). He wants to play with at least another certified star. Maybe he will.
But it might not be in Boston.
per Hoop Doctors:
With Garnett and Pierce moving on to the Brooklyn Nets, the Celtics have instantly become Rondo's team. To be honest, this is the moment Boston was waiting for. Every year the Celtics inched closer to referring to Rondo as their primary lifeline, but he was never completely heralded as the franchise's cornerstone next to Garnett and Pierce.

Now there's nothing preventing him from becoming the most important building block for the Celtics. Trades and free-agency signings will be made with him in mind before anyone else. That is, if he isn't the one who winds up being traded.

Gary Washburn of the Boston Globe wrote that general manager Danny Ainge and company intended to build around Rondo. Then he himself reported that the Dallas Mavericks came calling about the point man, and that the Celtics were asking for Dirk Nowitzki in return. Clearly, that wasn't going to happen, but that Boston considered moving him at all is noteworthy.

Further complicating matters is Rondo's distaste for the Garnett and Pierce trade. No one in Boston really liked that deal because of what it signified, least of all Rondo. Since then, according to Alex Kennedy of Hoopsworld, Rondo has made it clear he wants the Celtics to bring in Josh Smith.

Aside from the obvious fact that the Celtics still don't have the necessary cap room and will likely fall short in terms of tradable assets to makes this happen, chasing Smith isn't indicative of a team attempting to start from scratch. J-Smoove is a superstar in his own right, but acquiring him, say, in a sign-and-trade adds more money to the books and all but ensures the Celtics are stuck with Gerald Wallace and Courtney Lee. Not only would the Celtics then not have money to spend to build around Rondo and Smith, they wouldn't be a legit contender either.If Smith proves obtainable and he keeps Rondo happy, the Celtics have to consider it. They just do. But if Rondo himself can be flipped in exchange for some first rounders and immediate/future cap relief that makes Boston players on the 2014 free-agency circuit, then that's something Ainge has to contemplate as well.