---

via ESPN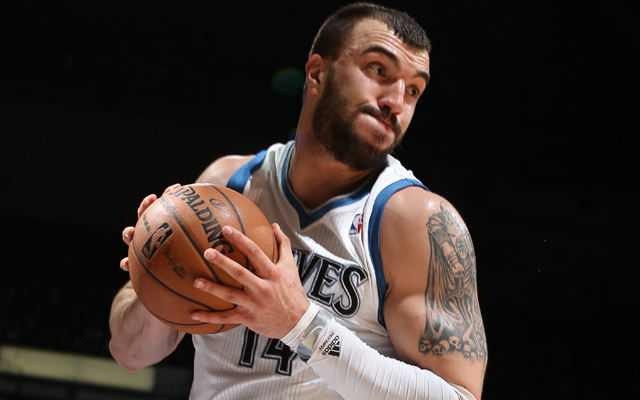 Following John Wall's lead, and how the Wizards caved in to the 'if we don't pay him, the big market teams will' logic, Nikola Pekovic has declared an asking price of 15 million.
An above average starting center, a 15 million tag is close to the max under the new CBA.
Not sure if it's a good move, considering next year's free agency class.
I don't think he's worth that much, but the question is, will Flip Saunders cave?
A key factor here is that Pekovic's agent is also Kevin Love's agent. Kevin Love was a bargain for the Wolves, it looks like they're trying to get the value back.
per ESPN:
NBA power agent Jeff Schwartz will have conversations with Minnesota Timberwolves president of operations Flip Saunders sometime in early 2015. Those talks will center around whether All-Star Kevin Love will opt-out of his 2015-16 contract and choose unrestricted free agency, or sign a more lucrative extension.

In other words, Schwartz is someone the Wolves want to maintain a solid relationship with.

But that could be compromised with Schwartz also representing Wolves restricted free agent center Nikola Pekovic.

Saunders was in New York City earlier in the week to meet with Schwartz. Word is it was cordial gathering. But one central issue remains, according to sources: money. The Wolves are offering Pekovic a four-year, $48 million extension. Schwartz wants more. In fact, at least initially, a lot more. One league source said his opening asking price was in the vicinity of $15 million/year.

The possibility of a five-year agreement exists (point guard Ricky Rubio would still be eligible for a five-year extension because Pekovic is not on the rookie scale). But the main focus has been on four-years. The Wolves are willing to add some incentive sweeteners — think games played with Pekovic's injury history. But the idea that they'll budge from the guaranteed portion — $12 million/year — is nearly ludicrous.

Pekovic's only leverage is to sign the $6 million qualifying offer and become an unrestricted free agent next summer. But nobody involved believes that will happen. Leaving $42 million-plus on the table, especially with a player who breaks down way more so than others, would be absurd.

In the end — probably sometime before Pekovic begins play with Montenegro in the EuroBasket championships in early September — a long-term deal is expected.

The conditioning portion of Montenegro's training camp began weeks ago. They ramp up their preparation next week. But until Pekovic signs with the Wolves, he won't be there.