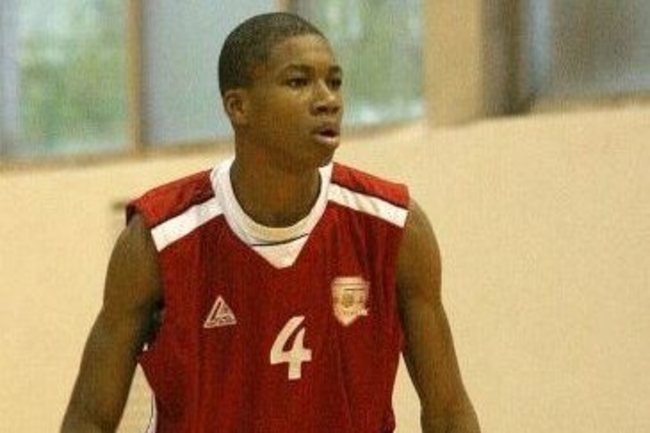 We are witnessing the San Antonio Spurs at the NBA Finals, and they're just three wins away from a fifth NBA title. The current Spurs roster is home to one lottery pick..Tim Duncan. Manu Gnobili was drafted 57th overall. Aside from Timmy, Kawhi Leonard has the highest draft among Spurs starters at 15th. The other 3 are international players drafted late, and spent time overseas before making the jump. (Technically, Ginobili isn't a starter, but he plays the bigger role)
Giannis Adetokunbo (someone give him a nickname before the draft, please) is a young Greek player who just might be in the Spurs radar. It might not be as headline hogging as grabbing franchise players from small market teams, but it is probably more effective.
per Bleacher Report:
It seems like every year we come across a late-blooming international prospect who graces NBA radars. In 2013, it's 18-year-old GiannisAdetokunbo of Greece. And this one didn't just grace the screen, he splattered his name across it.

Scouts and executives have been making Eurotrips to see what all the fuss was about.

Adetokunbo plays for Filathlitikos in Greece's second division. The competition isn't anything to write home about, but it's not Adetokunbo's production that everyone is enamored with—it's his unique skill set and physical tools, and that stays the same no matter who he suits up against.

I recently caught his last game of the year in full where his team lost in triple overtime.Adetokunbo wasn't much of a factor, unaware of what to do without the ball in his hands.

But with it, his potential lit up like a Christmas tree. Adetokunbo's skill set is unique when you consider his advantageous physical tools.

Physical Tools

At 6'9", Adetokunbo makes up for muscle with mobility and agility. He's a small forward by nature, however his versatile skill set and reported 7'3" wingspan should allow him to play multiple positions.

Adetokunbo is also an exceptional athlete. Between that, his length and body control, he projects as a forward who can finish around traffic or above it.

Physically, he looks very much like Nicolas Batum—whom many have been quick to compare him to—though Adetokunbo seems more ball-dominant as a creator, as opposed to Batum, who thrives playing off the ball.

Ball-Handling and Attacking


Adetokunbo is a threat to go coast-to-coast for a transition bucket off a defensive rebound. He's got an excellent handle he uses to get where he needs to go. And considering his size, most defenders he draws will lack the foot speed to keep up. Check out how graceful he is as he weaves through traffic after taking it the distance.
He's a legitimate 6'9" forward who can shake and bake off the dribble. Adetokunbo is silky smooth attacking the rim, taking long, decisive strides to sidestep defenders. He's the type of guy who looks like he can get from the half-court line to the rim with just two dribbles.

Shooting

He shot 31.3 percent from downtown this season, though he seems pretty comfortable letting it fly. Adetokunbo made over one three-pointer per game, and anything over 30 percent is at least a number to work with.

Here's a look at him pulling up over a screen and knocking down a three off the dribble. Even if he only did this five times all year, it's a promising flash of long-term potential.