---

via Hoopsworld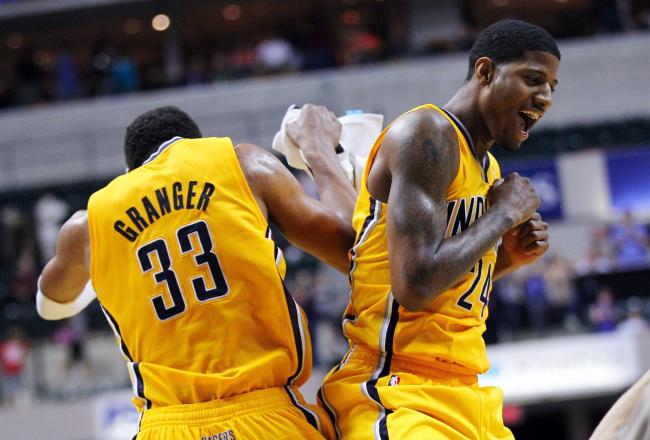 What happens to the Pacers when Granger returns? Should they have traded him instead? Or let him come back to increase trade value?
I wouldn't bet on the latter. Larry Bird won't have it. He also sees no reason why they can't play together.
Both guys never had attitude problems. I believe they can be the duo that can rival Wade and James. Sure, we haven't seen a Granger game yet, but why would he be different from what he was before?
George and Granger..sound like a 60s comedy duo. I don't think anyone in the East is laughing..
What do you think?
per Hoopsworld:
Before the 2012-13 season, a lot of people had a good sense that the Indiana Pacers would be a solid, respectable team in the coming year, but very few of those people would've predicted that they'd come only one game away from making the NBA Finals.

That is how things played out, however, thanks in large part to a breakout season from swingman Paul George, who averaged career-highs in points (17.4), rebounds (7.6), and assists (4.1). This year, despite the fact that the two-time NBA champion Miami HEAT are once again the overwhelming favorites to win it all again next season, George believes the time is now for Indiana to take their turn at winning a ring.

"We're positioned really well," George told HOOPSWORLD. "The only thing we really needed was the experience, and with everyone coming back together again, there's no doubt in mind that we should win a championship."

In this case, "everyone" fortunately includes David West, whom the team re-signed this offseason to a three-year, $36 million contract. With him, the Pacers are one of the toughest teams in the NBA, and everybody on the Indiana roster knows that. Without him, it's hard to imagine this team making their way back to the Conference Finals. Everybody on the Indiana roster knows that, too.

"It shows how important the front office thought it was to get our whole starting five back together," George said. "It was a great experience for us to learn to play without Danny (Granger), but now with Danny coming back, he's obviously proven to be an All-Star, a 20-points-per-game player who can play multiple positions and defend multiple positions. We've really got a lot going on right now, and I think our whole team mindset is solely on winning a championship this year."

Granger's return is equal parts enthralling and frightening for Pacers fans, some of whom are eagerly anticipating what those extra points will do for Indy's often-stagnant offense, and others who already are worrying that Granger's return will stunt George's growth.

George, however, doesn't seem particularly concerned.

"Even my second year in the league and my rookie year, we were still able to play off one another," George said. "I didn't have as big of a role as I do now, but we still did a good job playing off one another."

And he's stood by that statement for three years. Even with Granger back in the fold, George is the team's new superstar, and that shouldn't change no matter who else is on the floor.

The real question is whether Granger can do enough to help the franchise achieve their championship aspirations. The front office believes that if they were that good last year without Granger, they'll be even better with him either starting or coming off of the bench. While there's probably something to that, we'll have to see how things play out in real life to actually know if it's true.

True or not, George has his sights set on a ring. With the starting lineup all returning and the bench severely bolstered, there is a shot. No one seems to believe it's a particularly good shot, but if last year's preseason predictions have proved anything, it's that we should never underestimate the Indiana Pacers.