---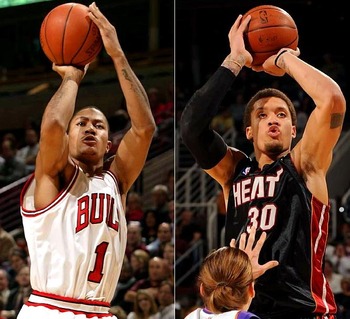 The 2008 draft was a strong one. It sparked a lot of interest as there were possible game changers. Blake Griffin was part of the one and done class, and he was projected as a top five pick. But he chose to stay on. The top choices boiled down to two freshmen–Derrick Rose and Michael Beasley.
Michael Beasley was the more dominant player in college. Derrick Rose was projected as the next great point guard. In the draft charts, Beasley was on top, until the last week before the draft. The consensus draft changed its number one ranking days before the draft..Chicago decided to pick Derrick Rose, Beasley went to Miami. There were issues with Beasley's work ethic, attitude..which in hindsight, turned out to be correct.
What if it didn't turn out that way? Miami would've had a Rose-Wade backcourt. Would the Big Three have formed?
per Bleacher Report:
Then came the draft lottery in which the Bulls won with only 1.7 percent odds of doing so—very incredible. Supposedly John Paxson was not even watching and his kids had to tell him that the incredible had just happened. Yet, he was immediately faced with a choice as two players emerged as potential picks.

As it has been a common occurrence recently with two clear cut No. 1 picks, (Kevin Durant, Greg Oden) Derrick Rose was obviously one of the those players. The other was Michael Beasley, a talented power forward who could light up the score board. On the surface it was a very obvious pick: The low post threat the Bulls have always needed (until the days of Carlos Boozer) or a point guard when the position had already been filled by fan favorite Kirk Hinrich.

Both players came in for a workout and still it seemed as if the Bulls would go for Beasley for a low post threat to pair with Hinrich. Yet, thankfully, they changed their mind and have never looked back.

But for hypothetical reasons, here is why I think the Bulls decided not to draft Beasley: his height. In an online picture is Beasley and Vinny Del Negro on his pre-draft workout. (I could not post the picture because I don't own it, just Google Image "Vinny Del Negro, Michael Beasley.") VDN is confirmed 6'4." Beasley is not even close to the 6'10" he was listed at in college, more like 6'7″ and way too short for an NBA power forward.

Vision is always 20/20 in hindsight, so now lets look back and how the Bulls roster would look like if Beasley was drafted.

First, as Beasley has become an average small forward and if the Bulls were determined to build around him, Luol Deng would have been traded and who knows what the Bulls would have received in return. Kirk Hinrich would have been retained because there would be no other point guard and Ben Gordan probably would have been let go.

Again, hypothetically, with this roster would the Bulls have been able to have enough cap room to sign free agents? Even more importantly, would the free agents want to sign with the Bulls? Rose entered this season a superstar, Beasley entered as a bust. Good luck convincing Carlos Boozer/Ronnie Brewer/Kyle Korver to join the team to play with Beasley.

I guess what I am trying to say is that taking Beasley over Rose would have led to a much less talented roster today. Heck, Thibodeau turned down the New Orleans Hornets job to coach Derrick Rose. Would he have turned the Hornets and Chris Paul down to coach Michael Beasley?

If Beasley had been taken, the Bulls would probably not even be a playoff team, remembering that the free agents would be less inclined to sign with the Bulls. Thibodeau wouldn't be the coach. No "MVP" chants would be heard in the United Center every night.

Even more scary is the thought that the No. 2 team in the draft would obviously take whomever the Bulls did not. And that team? Miami. So if the Bulls had taken Beasley, Rose would have joined Wade in Miami. If the Heat managed their financials well, and forgotten about Chris Bosh, Lebron James still could have been signed. How about that Big Three? Oh the horror.

Bulls fans, I simply don't know how we can thank John Paxson enough for the brilliant decision to draft Derrick Rose. He's given this city its greatest athlete. A role model for thousands if not millions of young kids. An icon. It was an extremely tough decision but he made the right one and hasn't looked back since.

Thank you, John Paxson.