---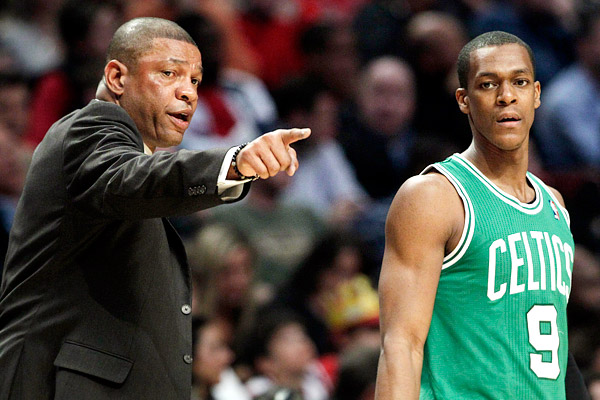 If it's time for a change, why not take it coast to coast? It seems like a good match. The perceived best team without a coach, and the most successful coach available. But there are still some questions that need to be discussed. The coaching carousel is not that simple, as everything NBA.
It's tough to keep Clippers fans from getting excited. Rivers is a champion coach who can instantly command any player's respect. Chris Paul won't object to that. Rivers can solve the reported Paul-Griffin conundrum, and make everyone committed to win. Pinch yourselves, Clippers fans, it's not real..for now.
per LA Times:
Is Doc Rivers available to coach another team?
That seems to be the $21-million question being asked around the NBA on Wednesday about theBoston Celtics coach.

There are two things that are for sure.

If Rivers decides he doesn't want to coach in Boston anymore, the Clippers would be interested in him and he would become their No. 1 choice, said several NBA executives who were not authorized to speak publicly on the matter.

The other thing is that the Clippers have not been actively pursuing Rivers, nor have they ever asked the Celtics for permission to speak with the coach, according to an executive.

For the Clippers to even think about hiring Rivers, they'd have to consider the many moving parts involved in making that happen.

Rivers has three years left on his contract that pays him $7 million per season.

Even though Rivers is considered one of the best coaches in the NBA, would Clippers owner Donald Sterling be willing to match that salary?

Not one NBA executive thinks so. But some of them believe Sterling might go as high as $5 million per season for someone like Rivers, several executives said.

Another issue for the Clippers to consider would be any sort of compensation the Celtics might require for Rivers if he walked away from his contract.

One NBA executive said the Celtics might ask the Clippers for two first-round draft picks over a three- or four-year period.

But the biggest problem is that Rivers has wavered on what he wants to do, even telling one NBA executive that he was "considering not coming back," and "wasn't sure" what his plans are.

Rivers and his assistant coaches have a meeting Thursday in Boston that was already planned, said one executive, and it had not been postponed.